By the Book: A New Book from Peter Pennoyer Architects and Reissue of Jed Johnson Interiors
A new book from Peter Pennoyer Architects and the reissue
of a 2005 classic from Jed Johnson Interiors underscore the power
of design to stir our emotions and enhance our lives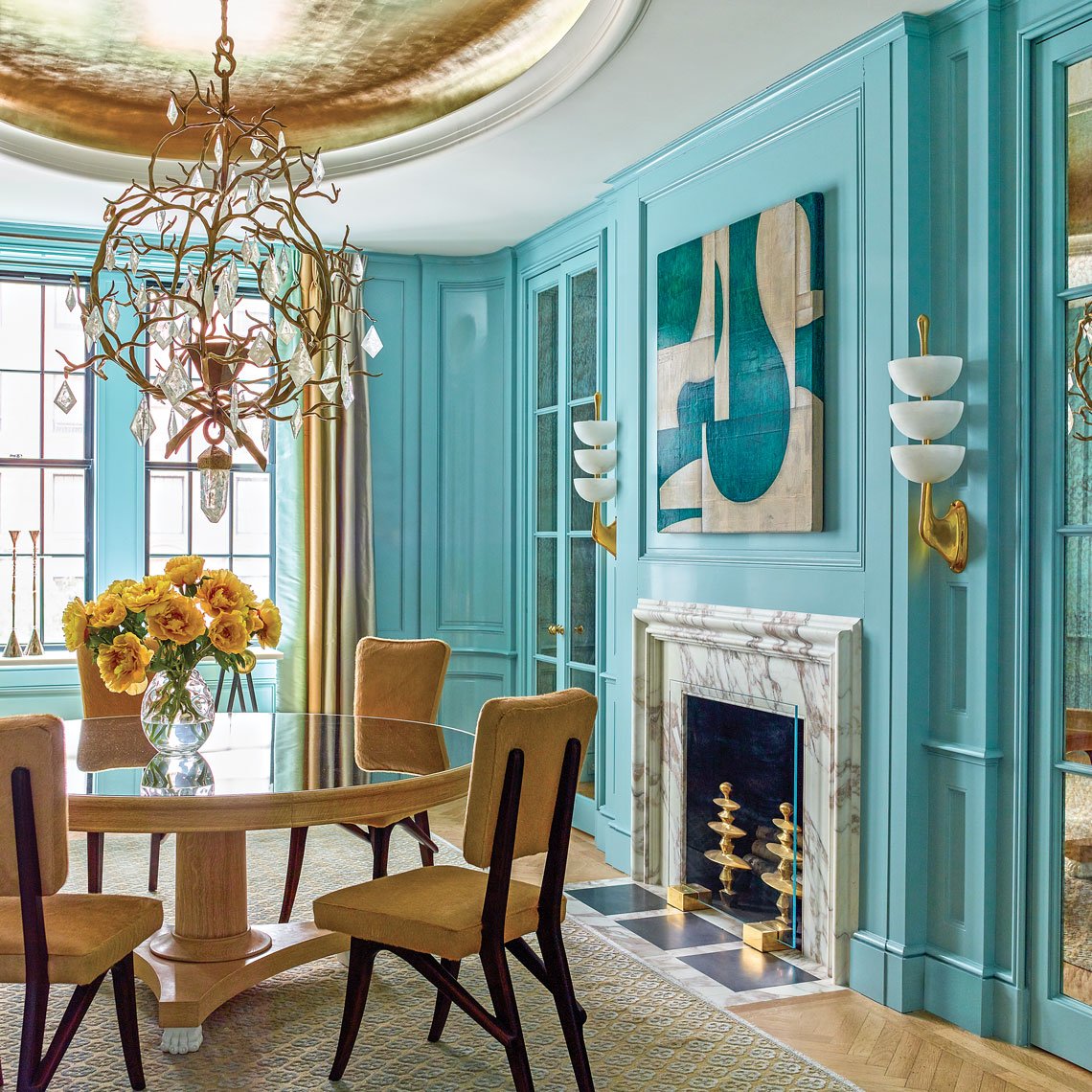 CANDELA DUPLEX
Peter Pennoyer Architects redesigned an elegant but dated 4,000-square-foot duplex in a 1920s landmark Upper East Side building by Sicilian-American architect Rosario Candela for a young family of four. The gut renovation, with the goal of improving the flow of spaces and reconfiguring door openings and windows to draw in more natural light, combined with interiors by PPA's interiors team that retain their elegance but are energized with contemporary verve brings new vitality to Candela's classical architecture. In the dining room, formerly the library, PPA's glam makeover began at the top, with a gilded ellipse set into the ceiling and Hervé van der Straeten's chandelier of gilt-bronze tangled branches and glittering rock crystal droplets. Curved walls, classically detailed paneling aswirl in blue lacquer, and mirrored French doors flanking a Calacatta Vagli marble fireplace contribute to the enchanting ambiance. Above the fireplace, a pair of sconces in sculpted brass and alabaster from Galerie Glustin bracket an abstract mixed media work by Cecil Touchon. The dining table is a custom piece in French white oak with a mirrored top. A set of custom dining chairs is modeled after Italian architect Carlo Mollino's 1954 bespoke commission for Casa Colonna in Turin. In a bold move, the dark stain on the oak floors throughout was removed and replaced with a blond finish, revealing the proud patina from over a century of living. Photo: Eric Piasecki
| | |
| --- | --- |
| | |
| | Peter Pennoyer. Photo: Jay Ackerman |
eter Pennoyer Architects: City/Country features 19 projects brought to life in rich detail, with engaging text by architectural historian Anne Walker, plans and drawings by PPA, and lush photography by Eric Piasecki. Divided into two sections, "City" and "Country," the book features residences designed to honor classic aesthetics in tandem with modern comfort and the realities of contemporary life. "City" projects include an NYC triplex on the historic Ladies Mile section of Fifth Avenue that combines two separate units into a spacious family apartment with an extraordinary two-story cupola. In the "Country" section, a Shingle Style summer house on an island in Maine is ingeniously configured to channel refreshing sea breezes through its rooms. Each project is unique and exceptional, a testament to the versatility and vision of the team at PPA.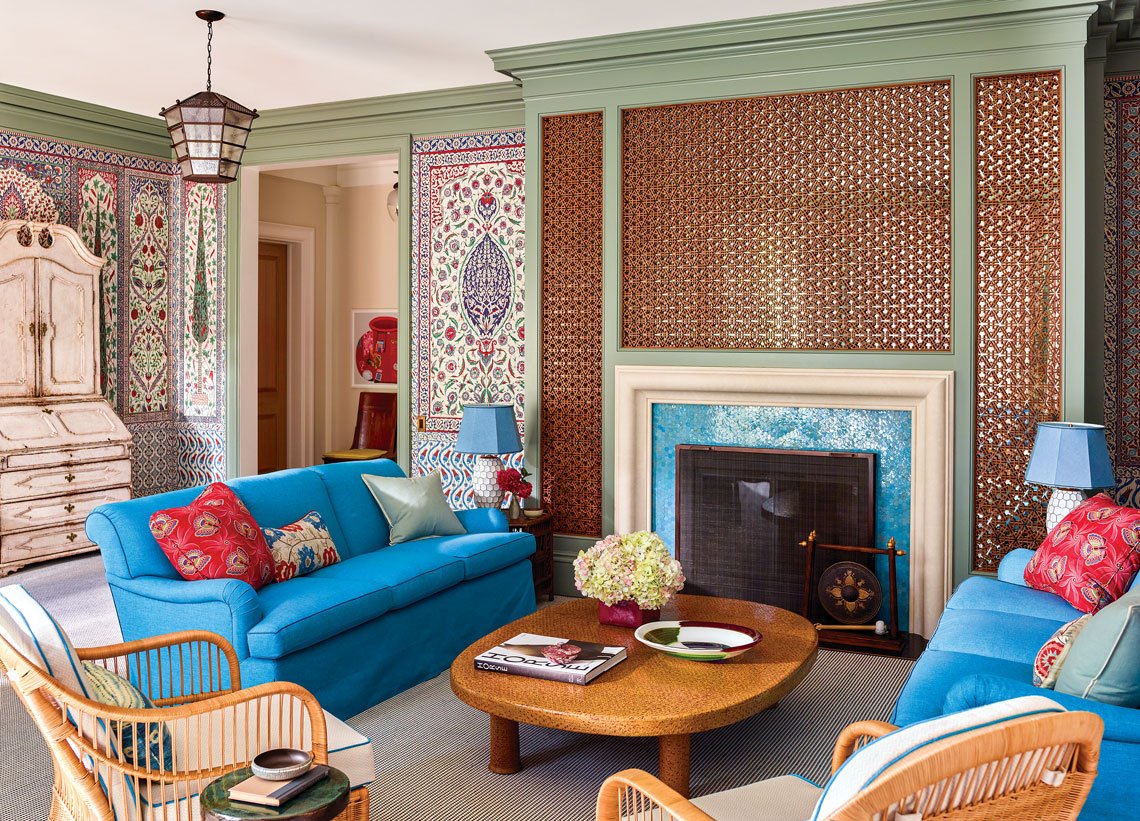 NEW VILLA ON A HISTORIC LONG ISLAND ESTATE
PPA designed this 8,000-square-foot carriage house to complement the historic Mediterranean-style villa that has been the center of a twelve-acre estate in eastern Long Island since 1912. Designer Katie Ridder, Peter Pennoyer's wife, was chosen to decorate the interiors. The parade of patterns in the living room begins with a hand-carved walnut, mirror-backed jali screen framing the fireplace. A feature of Indo-Islamic architecture, it was crafted by Turquoise Mountain in Kabul, Afghanistan. Exotically exuberant wallpaper inspired by the gardens at Topkapi Palace in Istanbul reflects the garden views seen through a rounded bay of French doors opposite the fireplace, which is embellished by a halo of turquoise Moroccan zellige tiles. A creamy antique Swedish secretary pops off the richly patterned walls. Photo by Eric Piasecki



(left) ARTS AND CRAFTS HOUSE IN OHIO

Situated on a twenty-nine-acre estate in an area that was once a summer colony for Cleveland's affluent during the city's boom years, PPA designed a sprawling Arts and Crafts style house of 14,000 square feet for a young family. And what a house — a whitewashed-brick-and-limestone exterior embellished with dormer windows, curved bays, a hipped roof with a pair of gables, terra-cotta chimney pots, a slate roof, porches, pavilions and a porte cochere. Romantic, picturesque, and imbued with a stately elegance brought through artful attention to symmetry and balance. Interior designers Miles Redd and David Kaihoi of Redd Kaihoi are known for their daring use of bold color and lavish old-world-inspired maximalism. Working in tandem with PPA from the outset, they met and matched the drama of the 20-foot coffered ceiling living room and its colossal double-height central window with rich saffron-painted walls and saffron fringed swag and tail curtains. A Sultanabad carpet and pair of mossy green velvet sofas, potted palm trees placed on Neoclassical pedestals for added height, "tons of antiques" and accessories acquired over the several years of construction combine to envelop the space in a voluptuous ambiance that is richly elegant and delightfully piquant. Photo: Eric Piasecki




(right) GREENWICH VILLAGE TOWNHOUSE

An 1857 red brick Italianate row house, converted to studio apartments, its façade stripped of historic elements and interiors dilapidated beyond repair was resurrected by PPA, the classic exterior meticulously restored, and an entirely new 5,500-square-foot residence constructed within. With an unsullied neighboring row house by the same builder as a guide to the exterior repairs, and painstaking research using Victorian-era builder's pattern books and studying period rooms, the interior architecture elements came into focus. Corinthian columns, arched doorways, intricate cornices and a multitude of pocket doors restored its dignified grandeur. Interior designer Shawn Henderson collaborated with PPA on the project, fusing the historic character of the house with the clients' collections of contemporary art and rare midcentury furniture. The rear parlor was outfitted as a dining area with sculpted bronze dining chairs by Paul Evans, circa 1968, set around a table by Silas Seandel. An 8-arm ceiling light designed circa 1958 by Angelo Lelli for Arreodoluce draws attention to the exceptional ceiling height and the elaborate crown moldings. Photo: Eric Piasecki
Peter Pennoyer Architects: City | Country
by Peter Pennoyer, Anne Walker

Photographs by Eric Piasecki

© Vendome Press, 2023

Publication date: October 2023

Available for pre-order at vendomepress.com and Amazon

Peter Pennoyer Architects

136 Madison Avenue, 11th floor

New York, NY 10016

(212) 779-9765




169 East Flagler Street, Suite 1442

Miami, FL 33131

(305) 995-6333






Jed Johnson: Opulent Restraint
by Jay Johnson
© Rizzoli New York, 2023
ed Johnson: Opulent Restraint, first published in 2005, is now back in print. The book chronicles the fascinating arc of Johnson's career, from the fateful day he delivered a telegram to Andy Warhol's Factory and was offered a job as janitor, to his relationship with Warhol and his development into an interior design superstar. Through his Warhol connection, he was introduced to the worlds of wealth and celebrity, assembling a client list that included Mick Jagger, Richard Gere, Barbara Streisand and Pierre Berge, but he also worked on projects for non-celebs who sought him out for his ability to create rooms that resonated his unique brand of aesthetic perfection.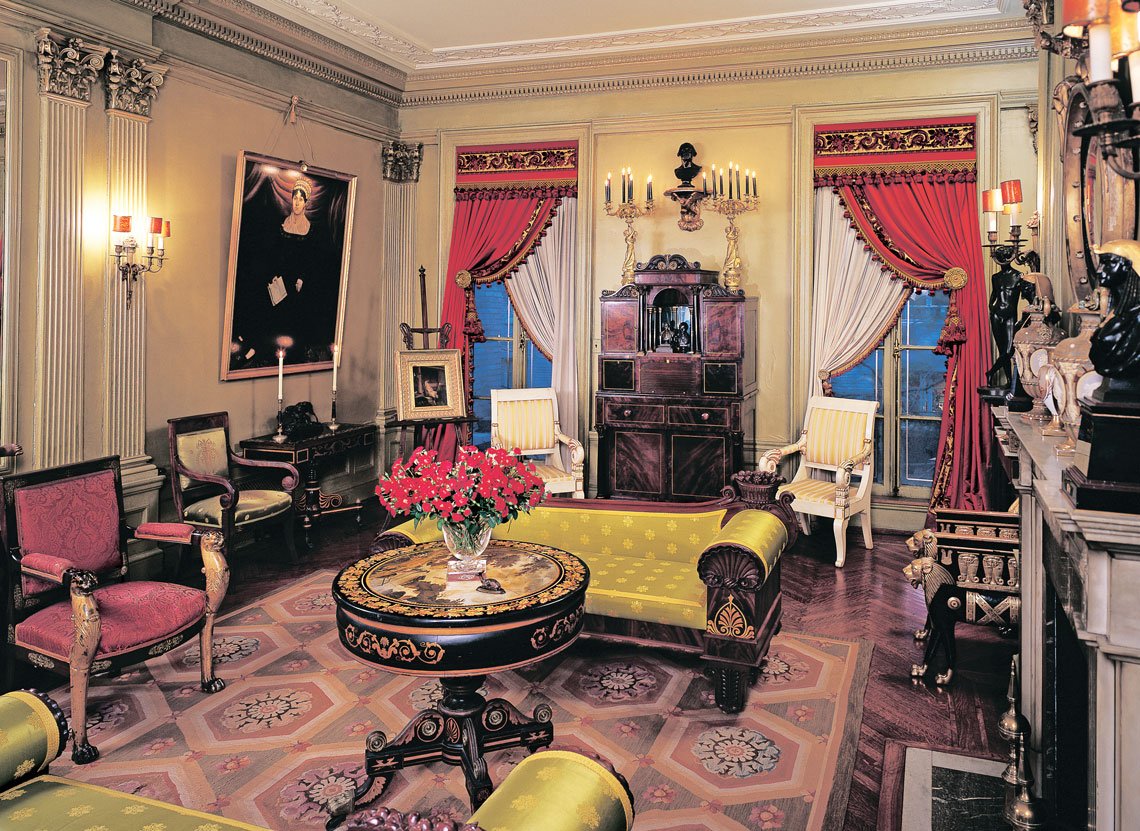 ANDY WARHOL'S FEDERAL PARLOR
Jed Johnson's curatorial skills are in evidence in this room, with an eye-popping collection of fine furniture from the first half of the nineteenth century, when the new republic was young and furniture makers borrowed classical forms and motifs from the birthplace of democracy. The caliber of the pieces creates an effect that transports the period room into the realm of timelessness. A pair of 1835 carved and gilded mahogany Philadelphia recamiers face across an 1825 painted and stenciled center table attributed to John Finlay, Baltimore's best-known maker of fancy painted furniture. Partially obscured by the fireplace is an early twentieth-century Egyptian Revival parcel gilt and painted chair. A carved and inlaid circa 1820 Philadelphia secretary stands between windows which are dressed in extravagant period-style curtains designed by Jed Johnson. The Aubusson carpet is circa 1900. Photo: Norman McGrath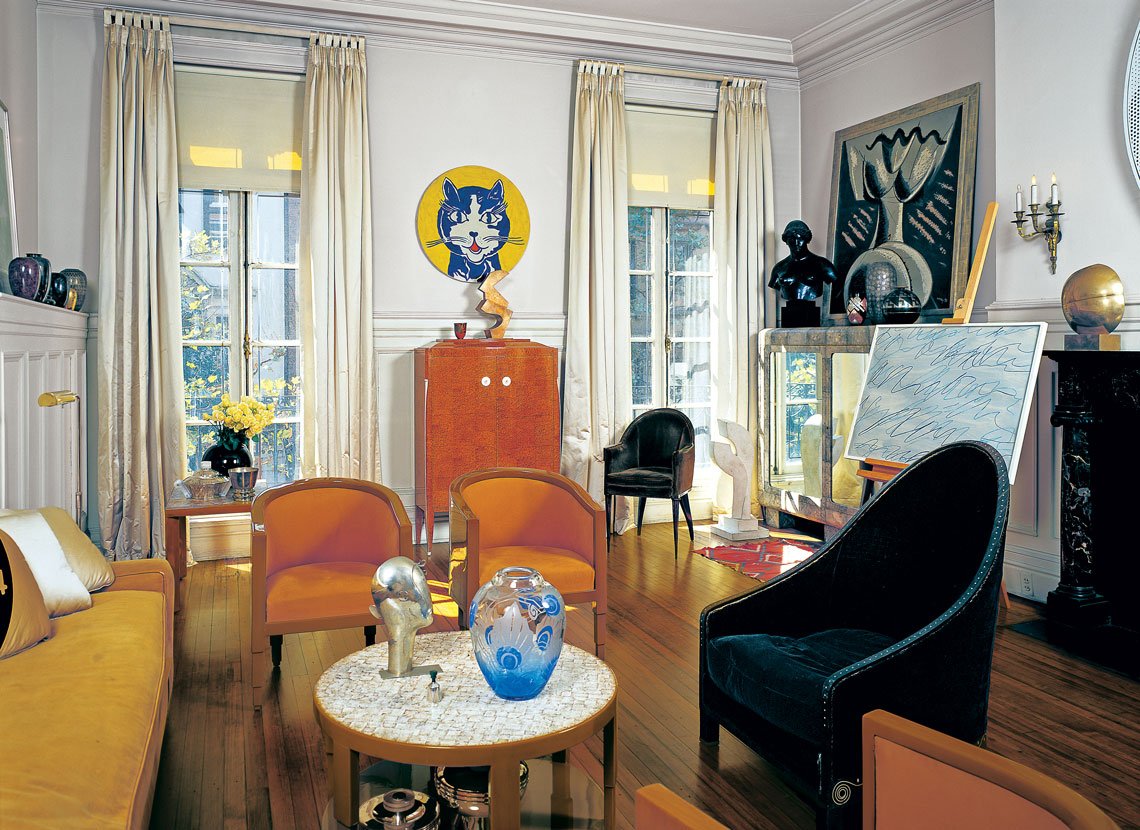 ANDY WARHOL'S ART DECO SITTING ROOM, NEW YORK CITY 1977
Rooms in the Federal period townhouse were decorated in a range of styles, each evincing Jed Johnson's remarkable eye. Mixing modern art with antique furniture and period furniture is typical, but at the time this room was decorated, it was considered highly unusual; modern art was only seen in rooms decorated with modern furnishings. Here, works from Warhol's extensive collection of modern art keep company with museum-quality Art Deco furnishings. At the center of the room, Roy Lichtenstein's Laughing Cat, 1961 draws immediate attention. Below is one of French Art Deco master Émile-Jacques Ruhlmann's most celebrated designs, the "Fontane" cabinet, circa 1923–24. This first edition of the cabinet was created in burl amboyna, oak and ivorine. Almost immediately, an example was acquired by the Musée des Arts Décoratifs for its permanent collection. On top of a mirrored shagreen cabinet, circa 1920 by Pierre Legrain, is Renoir's 1915 bronze Head of Venus and Pienture Feminine, 1954 by Man Ray. A work by Cy Twombly is displayed on an easel; on the mantel is a 1952 polished bronze sculpture by Jean Arp. The pair of lacquered chairs are by Jean Dunand, as is a circa 1925 lacquered wood and eggshell low table. Widely considered one of the Art Deco era's preeminent designers, Dunand was introduced by architect and furniture designer Eileen Gray to lacquerer Seizo Sugawara, who came to Paris to curate the Japanese exhibition at the 1900 Paris Exposition. Sugawara gave lessons in lacquering to Dunand, who combined lacquer techniques with fragments of eggshell to create his signature specialty coquille d'oeuf tabletops and vases. The demand for pieces decorated with this technique became so strong that Dunand kept a flock of chickens in his workshop to ensure a ready supply of eggshells. Surprisingly, although each room in the townhouse contained important works of art, none of Warhol's own artwork was on display. Photo: Norman McGrath