Designer QnA: Tammy Connor Translates Memories into Meaningful Homes
| | |
| --- | --- |
| | |
| | Tammy Connor, photo by Peter Olson |
Award-winning interior designer Tammy Connor has built her reputation on creating timeless classic interiors infused with a casual southern elegance. She founded Tammy Connor Interior Design in 2000 and since then, she and the firm have received six awards from the Institute of Classical Architecture & Art, been identified by Elle Decor as "Ones to Watch," named one of Traditional Home's "New Trad Designers," and selected for Luxe magazine's "Gold List." Their work has also been featured in an array of national media publications, including The Wall Street Journal, Veranda, House Beautiful, Traditional Home, Luxe magazine, Coastal Living, Southern Living, and Atlanta Homes & Lifestyles, among others, as well as in numerous books.
The understated beauty and ease of living created by Tammy Connor Interior Design comes from a deep knowledge of the history of design, business acumen, and innate southern grace. Whether a charming cabin retreat, a 14,000-square-foot primary residence, an oceanfront getaway, an apartment on Central Park, a country club, or a horse farm in Virginia, the firm's services are all encompassing and provide inviting, sophisticated, and exquisite interiors as a result.
With roots and design studios in both Charleston, South Carolina and her hometown Birmingham, Alabama, Tammy and her associates' success stems from close partnerships and collaboration with each project's architect, landscape architect, builders, and craftsmen. Systems are in place to ensure precise scheduling and comprehensive management of the design process, including custom detailing, order management, and installation.
Known not only for sublime décor, Tammy Connor Interior Design selects and specifies the room-defining details such as lighting, plumbing, tile designs, cabinetry designs, and all interior finish selections. At the clients request, the specific strands of a cultivated lifestyle—from entertaining needs, table settings and flowers to linens and stationery—are deftly provided with care and expertise.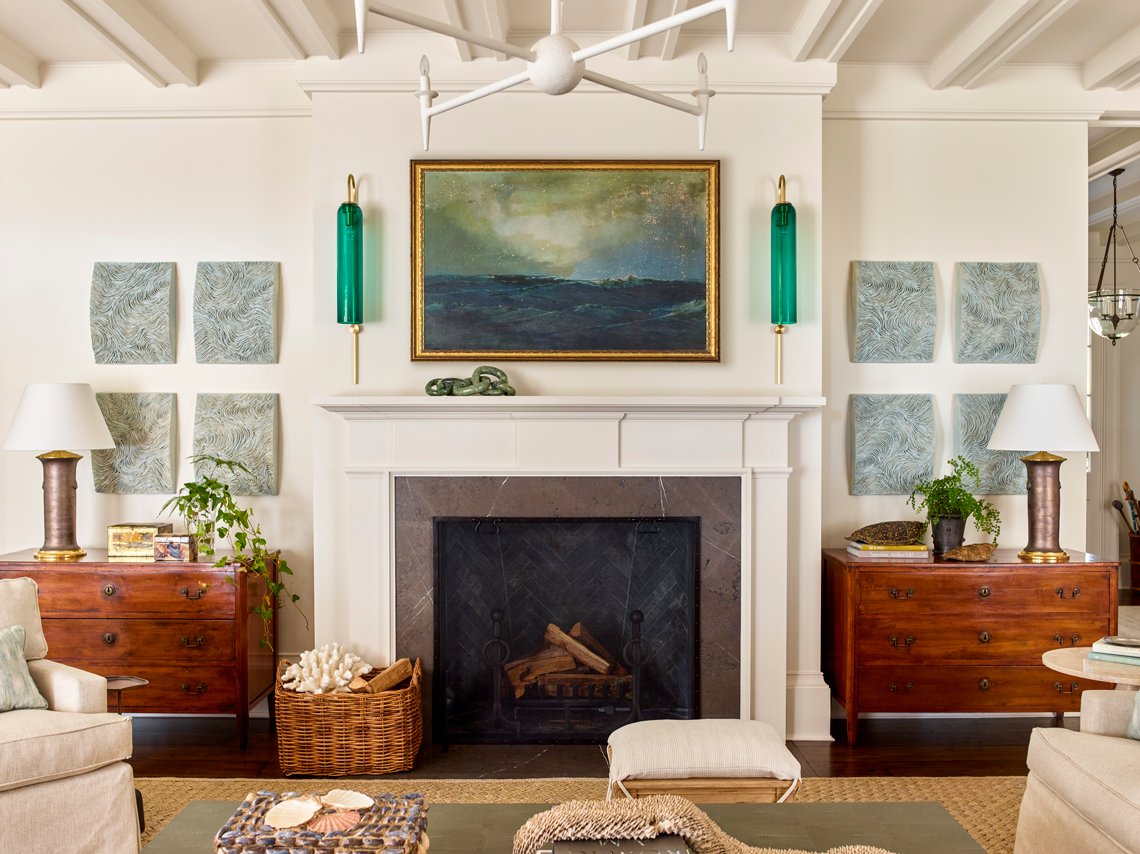 For the interiors in a Shingle-style Kiawah Island house on the South Carolina coast, Tammy took her cues from the beach, the landscape and the architecture to achieve a timeless ambiance that is both relaxed and refined. Working in tandem with Roger Seifter of Robert A. M. Stern Architects, who designed the house in 1996 for a different owner, she was delighted to be tapped for another project with her longtime clients, and this was especially enticing, given her love for the distinctive architectural style. She noted, "If you understand where the home is coming from, architecturally, it will tell you where it needs to go." Above the living room fireplace, a dramatic and moody seascape is bracketed by a pair of emerald green mouth-blown glass sconces by Australian lighting studio Articolo. 19th-century Italian commodes from Newel were selected for their warmth and soulful patina, and topped with bronze-glazed lamps by Christopher Spitzmiller. The custom-commissioned ceramic wall sculpture installation from artist Gregor Turk echoes the swirling surf; a feeling enhanced by the pale blue-green hue that Tammy chose. Thoughtful consideration was given to continuity – overhead, a plaster chandelier by Bourgeois Boheme Atelier complements the traditional ceiling details with its purity of form, and a woven abaca rug evokes the grassy dunes just outside. Photo by Eric Piasecki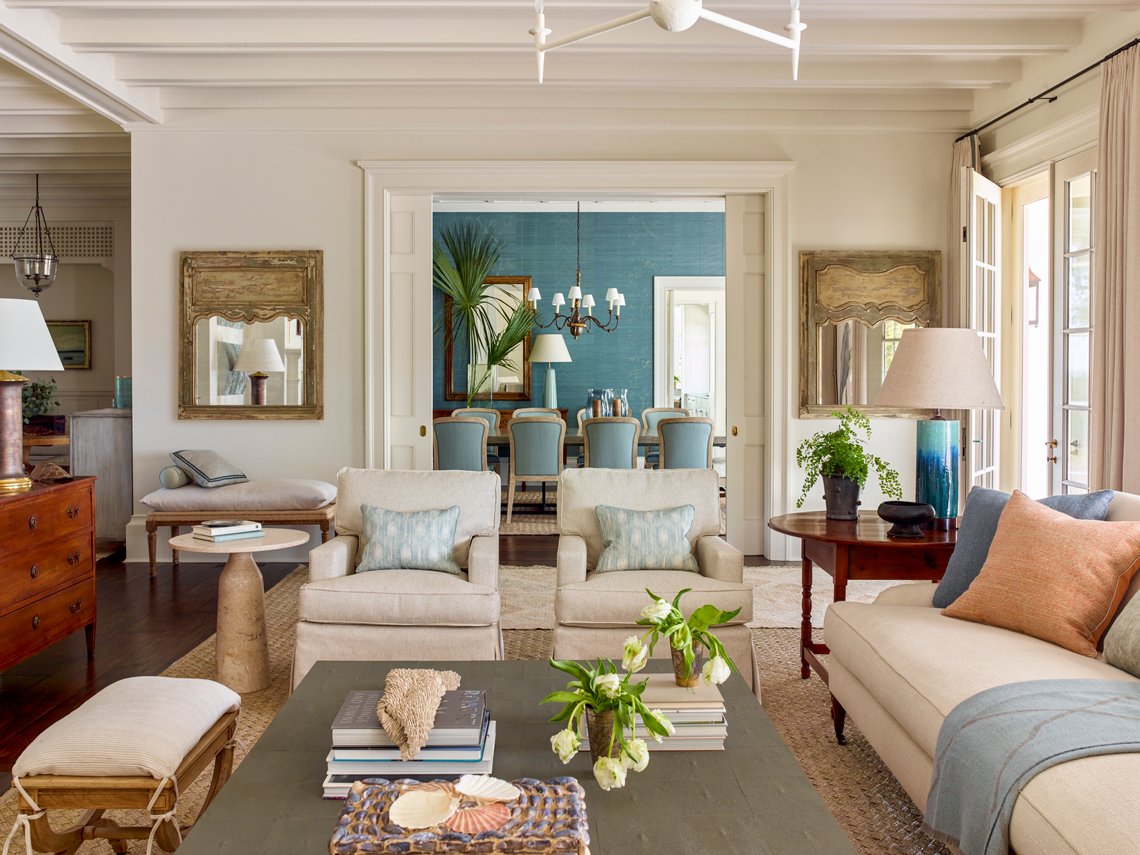 Another view of the living room, through to the dining room. A color palette arising from the surrounding views – an array of blues from the ocean and sky, pale sandy beach tones, muted green and golden hues taken from the sea grasses and a glowy sunset coral – anchors the interiors to place. Photo by Eric Piasecki
DISCOVER TAMMY CONNOR'S INCOLLECT FAVORITES



Set of Anglo Indian Amber Glass Sconces

Carlos de la Puente Antiques




French Painted Mirror

Skelton + Culver



BOURGEOIS BOHÈME ATELIER

Avron 8 Branch Chandelier

Bourgeois Bohème




English George III Mahogany Chest Circa 1840

Castle Antiques & Design
Tell us something about yourself that is not in your bio.
My favorite part of my job is the collaborative process between our design team and the architects, builders, landscape architects and craftsmen we work with. Team work truly makes the dream work!
What sort of house did you grow up in, what did you love about it, and has it or any other design memory from your childhood influenced your aesthetic?
It was a 1920s brick Tudor in Birmingham—it had cathedral ceilings, which allowed for a really big Christmas tree. It had original plaster walls and fireplaces —and the gardens were beautiful. It also had a room above the garage that I turned into my personal dance studio.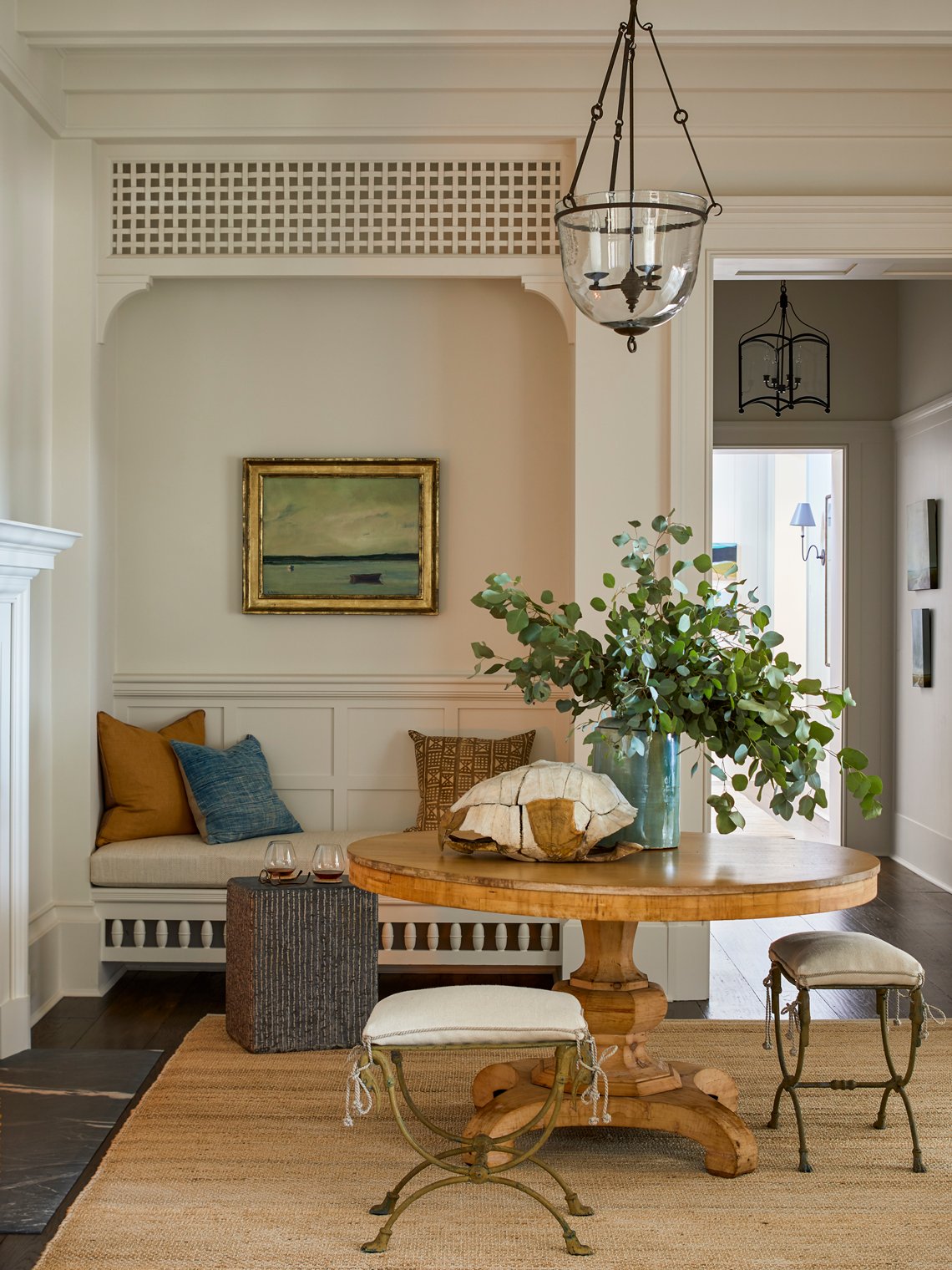 A charming inglenook, medieval symbol of hearth and home, and one of many distinctive Shingle Style features in the house, graces the entrance of the Kiawah Island retreat project. A circa 1830 English mahogany table and a pair of vintage curule-form benches embellished with swan's heads, along with the inglenook bench, creates a cozy and welcoming first impression. Photo by Eric Piasecki
SHOP TAMMY'S INCOLLECT FAVORITES



A pair of 20th century brass hanging lanterns in the style of Lutyens

Wick Antiques LTD




KARL JOHAN

A Swedish Karl Johan Birch Root Drum Table, Circa 1830s

Evergreen Antiques



MARI SIMMULSSON – UPSALA EKEBY

Duo of vases with carved textures by Mari Sammulson

BAC




DESIGN FRÈRES

Pair of Large 'Strapontin' White Hide Stools by Design Frères

Blend Interiors
What is your favorite object in your home, and how and when did you acquire it?
Portraits of my children that I commissioned when they were 4 and 6—they are pastel on paper by an artist from Santa Barbara—I will cherish them forever.
How does a design scheme begin for you? Is there ever a particular element that inspires the whole project?
I have found over time that every project I work on is inspired by three things: the setting, the architecture, and the lifestyle of the client.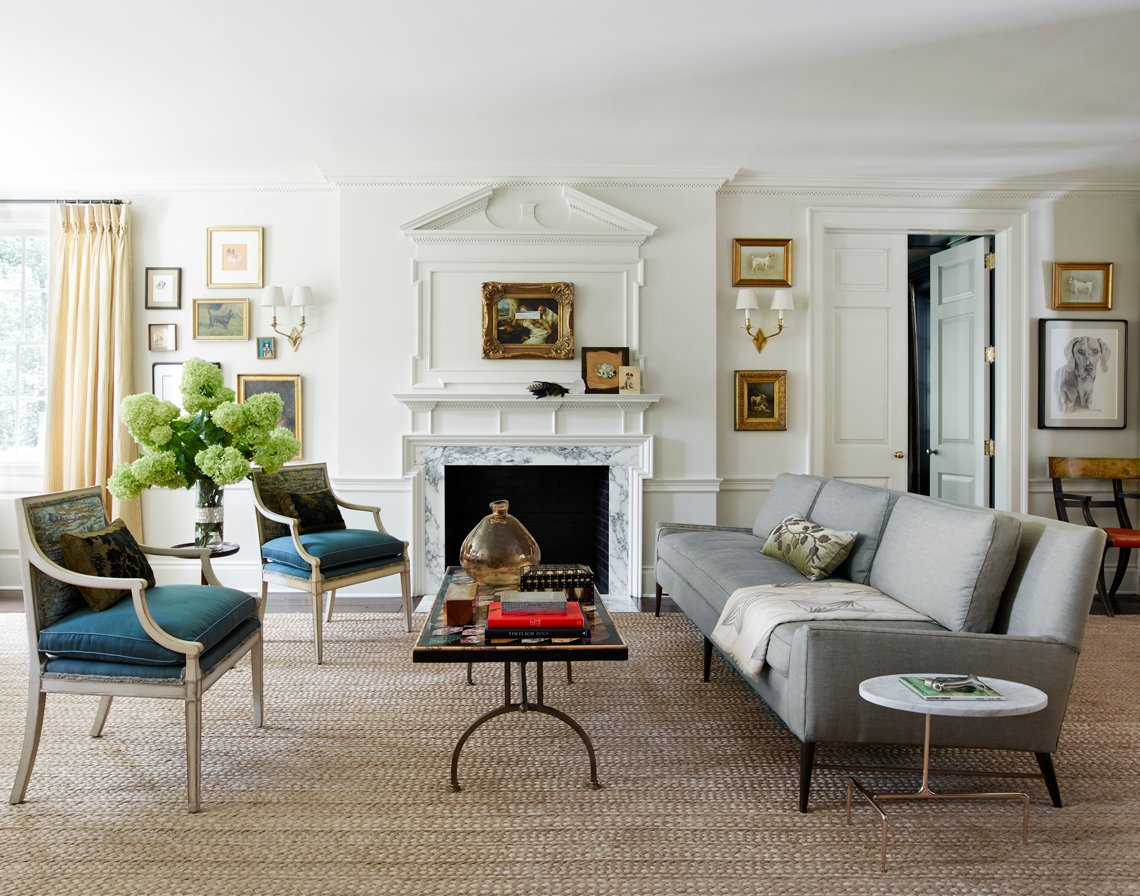 Atlanta was home base for renowned classicist architect Philip Trammell Shutze, whose body of work includes public buildings and a large number of private homes, all distinctive for their refinement, grace and beauty. Tammy Connor Interiors has been honored with six Philip Trammell Schutze awards, which are bestowed annually by the ICAA Southeast for exceptional work in the classical tradition. This luminous living room in a 1930 Schutze-designed Atlanta residence has all the original millwork, including an exquisitely proportioned configuration above the fireplace. A contemporary work by British artist Banksy "A System Error Has Occurred" hangs above the mantel; surrounding walls feature a collection of dog paintings. A vintage inlaid specimen marble top coffee table and a contemporary brass and marble table reference the marble fireplace surround, while lending old world notes that complement an ongoing theme, that of the owner's ties to her family's ancestral homes in Italy. A pair of Gustavian chairs and a contemporary sofa are underlaid by a woven rush rug, bringing warm, natural texture into the scheme. Photo by Richard Powers
SHOP TAMMY'S INCOLLECT FAVORITES



SCALA LUXURY

Uova | Side Table

Carlyle Collective




Pair of Empire Style Sconces

Carlos de la Puente Antiques



French 19th Century Green Blown-Glass Wine Keg

Fireside Antiques




Rare Bronze and Iron Coffee Table Design
Inspired by Gilbert Poillerat

Lerebours Antiques
What is something you'd love to do that you haven't had quite the right project for yet?
A shell-encrusted grotto/folly in a shaded woodland garden—somewhere near an exotic sea. A girl can dream!
If you had to choose, which is more important: pattern or texture?
Texture, hands down. Texture is something you physically experience and it can bring so much dimension and feeling to a space. I love pattern too, and I think pattern tends to be seen as the winner between these two in our Instagram-focused world, but it's texture that stays with you once you've actually spent time in a room.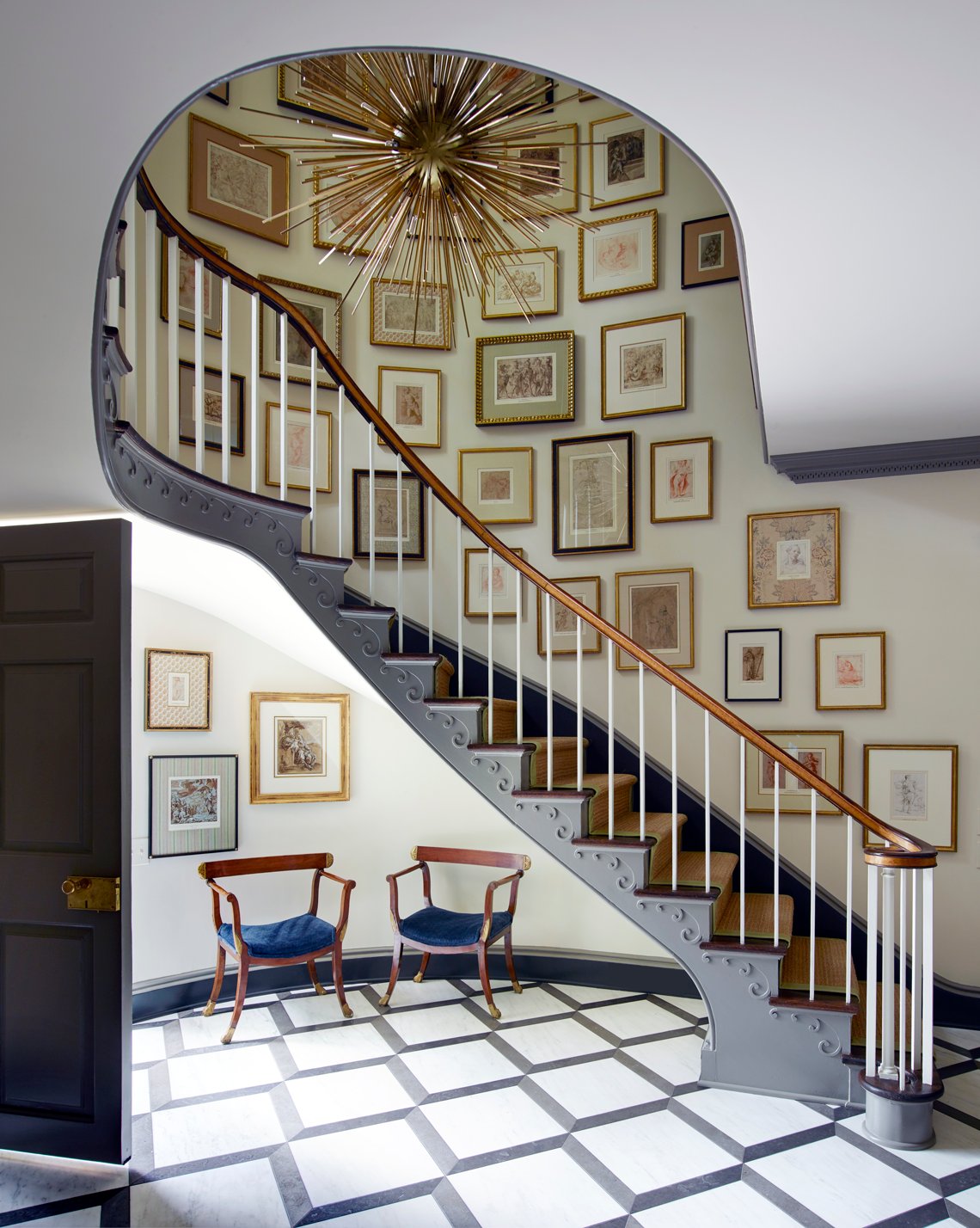 The entrance hall of the Atlanta 1930 Schutze house. The owner's collection of Italian master drawings, amassed by generations of her family, was meticulously reframed and painstakingly composed to create a stunning two-story gallery wall. The old-world palette of the artwork — earthy tones of sienna, olive, terra-cotta and ochre — envelopes the space with subtle warmth. An exuberant vintage brass sputnik chandelier from High Style Deco highlights the stairwell and draws the eye upward, while playing off the glow of the gilt picture frames. Photo by Richard Powers
SHOP TAMMY'S INCOLLECT FAVORITES



Pair of Flemish Style Faux Tortoishell and Ebonised
Ripple Frame Mirrors

Dorian Caffot de Fawes




A Pair of Neoclassical X-Form Armchairs with Parcel-Gilt
and Bronzed Detailing

Carlton Hobbs, LLC



Monumental Brass Sputnik Chandelier

John Salibello




Set of Eight Pressed Botanical's Specimens

Fleur
Do you have a signature element – something you always like to include when styling an interior?
I can't think of one single item, but a signature element would be bringing nature inside — whether it's with a shagreen coffee table, framing a view of the vista beyond, or accessorizing with natural materials and textures.
Who is your dream client (entertainer, artist, politician)?
Iris Apfel — a true icon!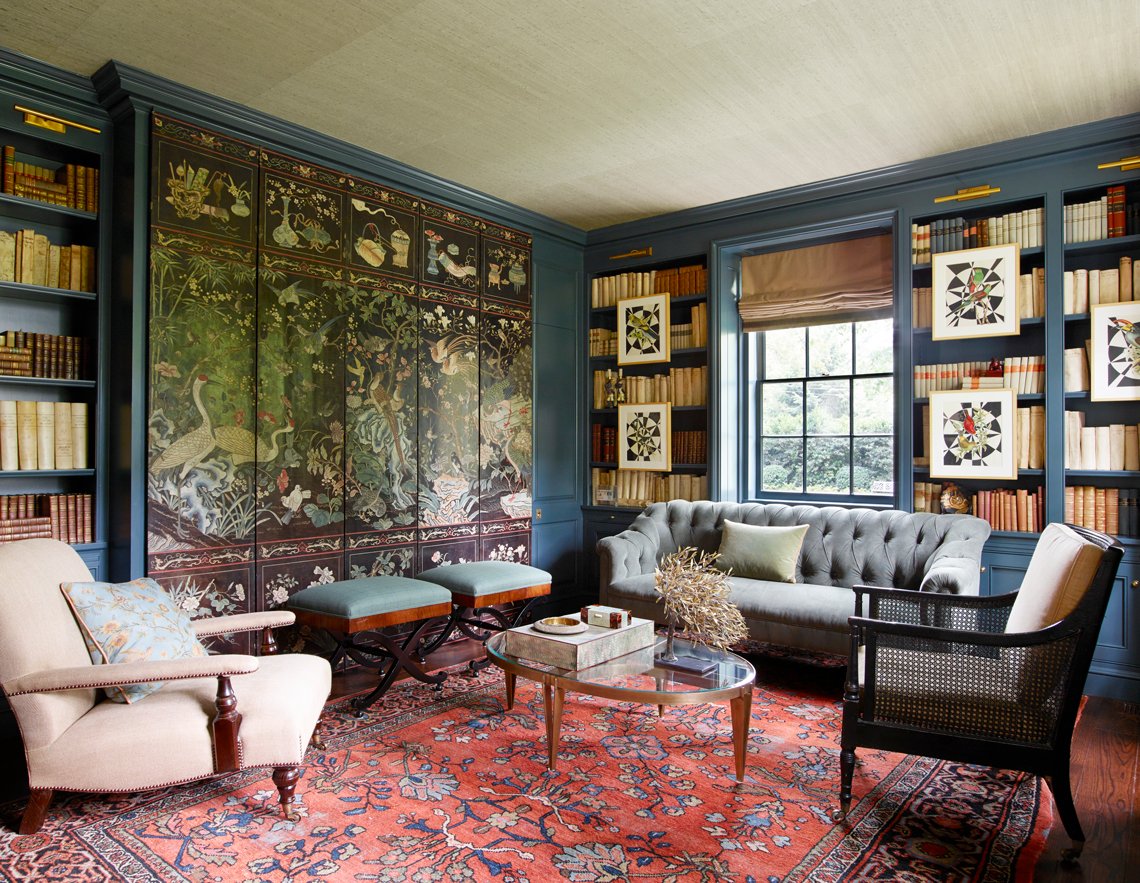 The library of the Atlanta Schutze home is richly decorated with an extraordinary 18th-century chinoiserie screen, a piece with a provenance of personal significance to the owner. Brought back from a sourcing trip to Italy she took with Tammy to gather special pieces from her family's numerous homes, the screen came from the family's 16th-century Tuscan villa. Tammy and architect Stan Dixon designed the bookshelves to house a sizable collection of 17th and 18th-century vellum books, which are also family treasures collected from the sourcing trip. An ebonized Anglo-Indian armchair and Edwardian-style armchair are classic choices for library decor; as is the plush button-tufted sofa. The rug is antique Sarouk. Photo by Richard Powers
SHOP TAMMY'S INCOLLECT FAVORITES



Anglo-Indian Robustly Carved Ebony Armchair, Circa 1840

Susan Silver Antiques




Pair of Grand Tour Egyptian Porphyry Obelisks, 19th Century

Robin Miller Antiques



Chinoiserie Six-Panel Hand-Decorated Screen

Lerebours Antiques




English Victorian Leather Easy Chair

Newel Antiques
Where have you been, or what have you seen recently that you know will influence your work?
My work is often influenced by and inspired by my travels but suffice to say my influences as of late have come from my proverbial backyard. I continue to find inspiration throughout the South Carolina Lowcountry—whether it's noticing a new architectural detail while walking through downtown Charleston or the way the colors of the marsh change with the season.
Nugget of design-related wisdom you'd like to share.
Your home should be a reflection of you: it should be filled with meaningful collections and items that are attached to a memory. Personalization is what deepens the level of 'home.'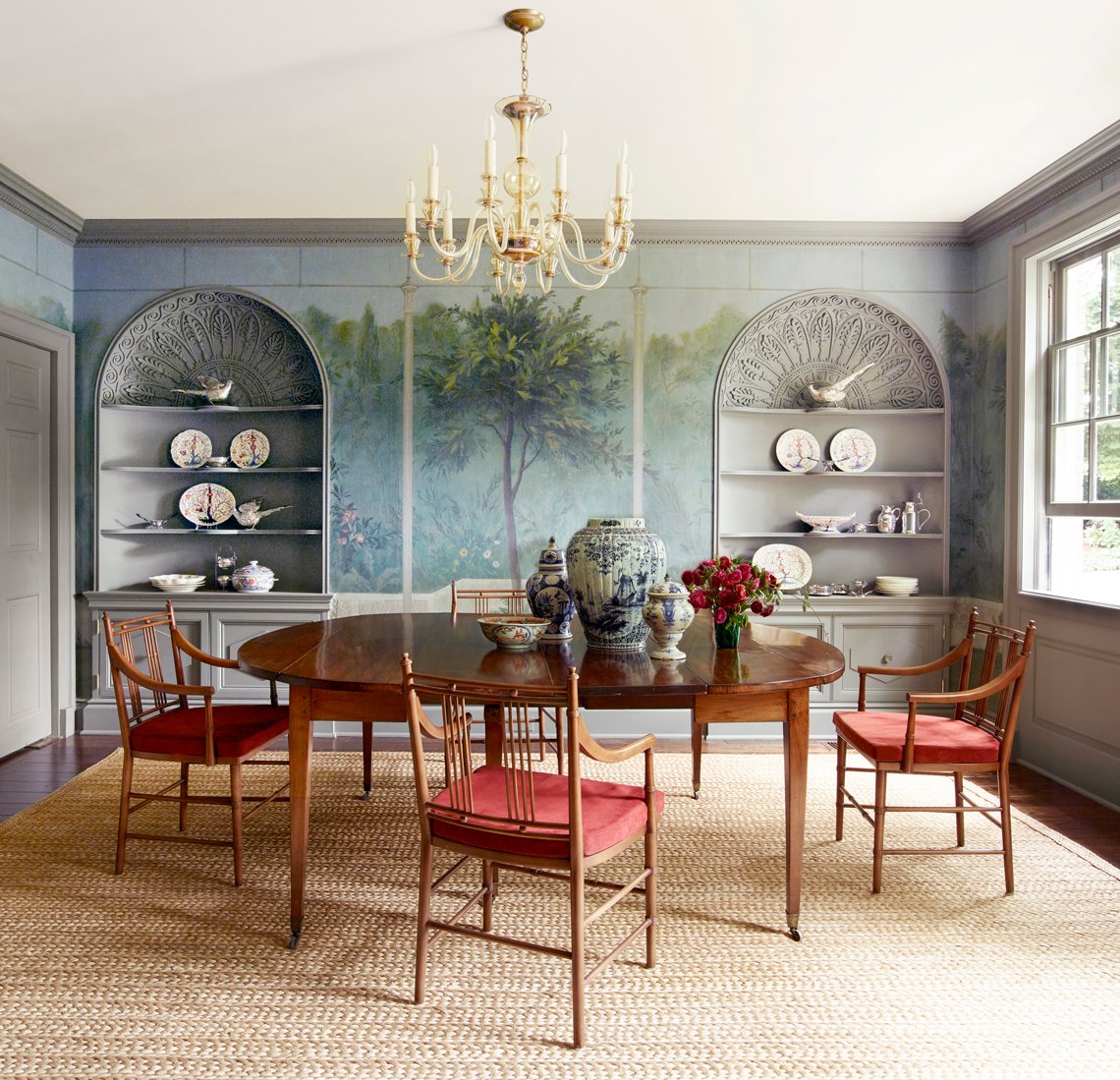 Classical motifs embellish a pair of Shutze-original alcoves in the dining room, displaying antique silver and china. Tammy commissioned Atlanta muralist Ray Goins to create the misty, mysterious garden mural to envelop the room in a sense of drama and anticipation, setting the stage for festive occasions. The chandelier is vintage Murano and the table is antique French directoire. Photo by Richard Powers
SHOP TAMMY'S INCOLLECT FAVORITES



MAISON JANSEN

Maison Jansen refine set of 4 silver greyhound arm chairs

Galerie Andre Hayat




Long early George III Irish mahogany dining or wake table
of exceptional colour

Wick Antiques LTD



Vintage Over-sized Six-Arm Murano Chandelier

Lerebours Antiques




English 19th Century Georgian Trolley

Fireside Antiques
I f you weren't a designer, what would you be?
A National Geographic photographer.
Tell us what you love about Incollect and what one can expect sourcing with us.
In our increasingly virtual world, it's more important than ever to have sources you can trust. Incollect offers an incredible accessibility to a variety of styles and pieces, through vendors that truly care about craftsmanship and quality.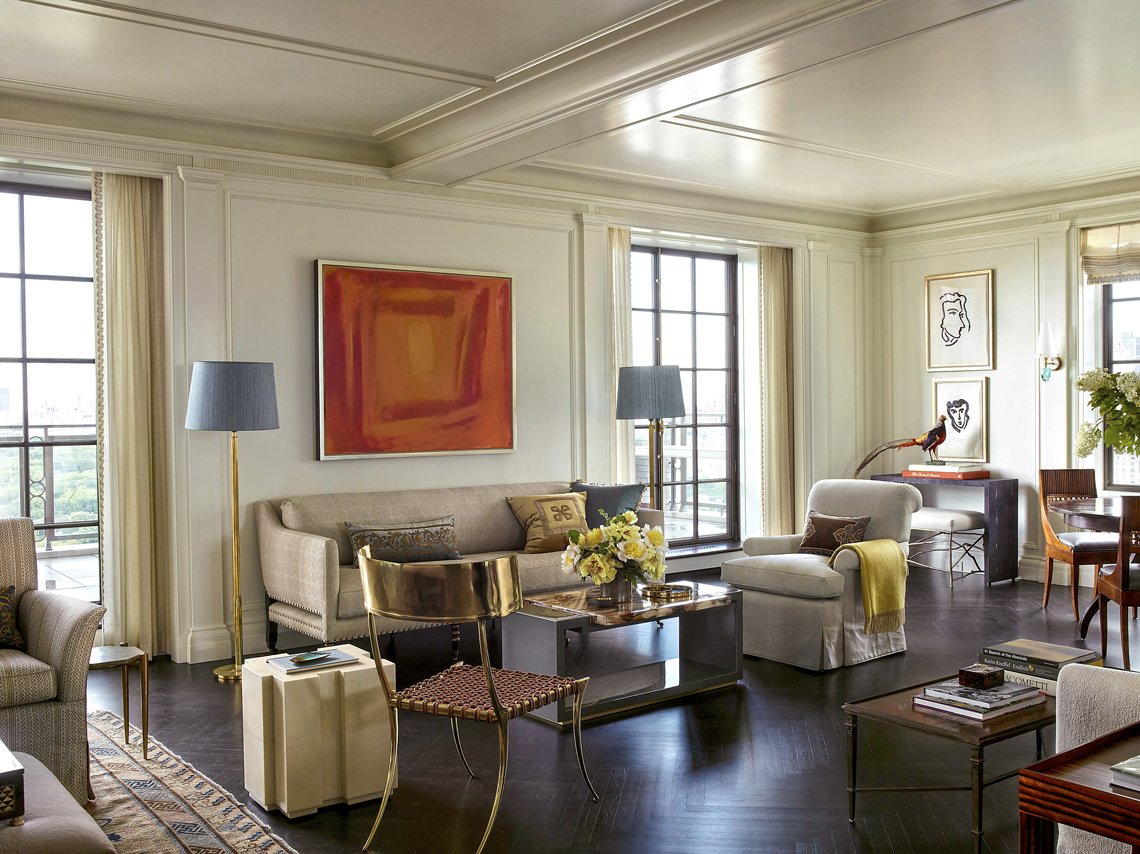 Working alongside noted architect John B. Murray, Tammy designed the interiors of a New York City apartment with panoramic views of Central Park, a second residence for longtime clients whose grown children had relocated to the city. A warm palette of subtly modulated neutrals and nature-inspired leafy greens, rich browns and September-sky blue meshes with the exhilarating scenery, tying the interiors to their extraordinary setting. A painting by Esteban Vicente radiates glowing sunset tones over a seating group in muted hues, and sunlight glints off the polished brass of a Klismos chair with woven leather seat. A panoply of textures adds dimensional richness, with tables of parchment and wrought iron, and upholstery fabrics in linen, cut velvet and silk. The air of relaxed elegance belies the exacting nature of Tammy's process; she noted, "I can't tell you how hard we worked to make it all look easy." Photo by Simon Upton

SHOP TAMMY'S INCOLLECT FAVORITES



ROBERTO GIULIO RIDA

"Pigne," Unique 8-Light Chandelier by Roberto Giulio Rida

Donzella




"Aqua" Klismos Brass Chairs

JF Chen



LEREBOURS BESPOKE

Set of Parchment Nesting Tables with Bronze Banding

Lerebours Antiques




Two Biedermeier Style Chairs, Cherry Veneer/Birch Roots,
South Germany

Coloneum Antik
Career Idol:




A mix between Albert Hadley and Bunny Mellon






Go-to color scheme:

Anything green




Necessary design extravagance:

Fine linens




TV show or movie with incredible interiors:

It's Complicated — the kitchen is amazing!




Favorite way to spend a day at home:

Coffee on the back porch with the sounds of morning birds, a walk under the neighborhood oak trees, catching up on the latest design books, an evening swim in the pool with my two children — and a relaxing bath before bed.



Hidden talent totally unrelated to design:




Tap dancing (the time spent in my childhood garage-turned-dance studio paid off!)






Vacation spot:

South Africa




Candle or scent from nature:

Jasmine




Flora:

Gardenia




Next design purchase (for yourself!):

A custom-woven apple matting rug for my living room.



VIEW ALL OF TAMMY CONNOR'S INCOLLECT FAVORITES