Modern Living: Gio Ponti and the Twentieth-Century Aesthetics of Design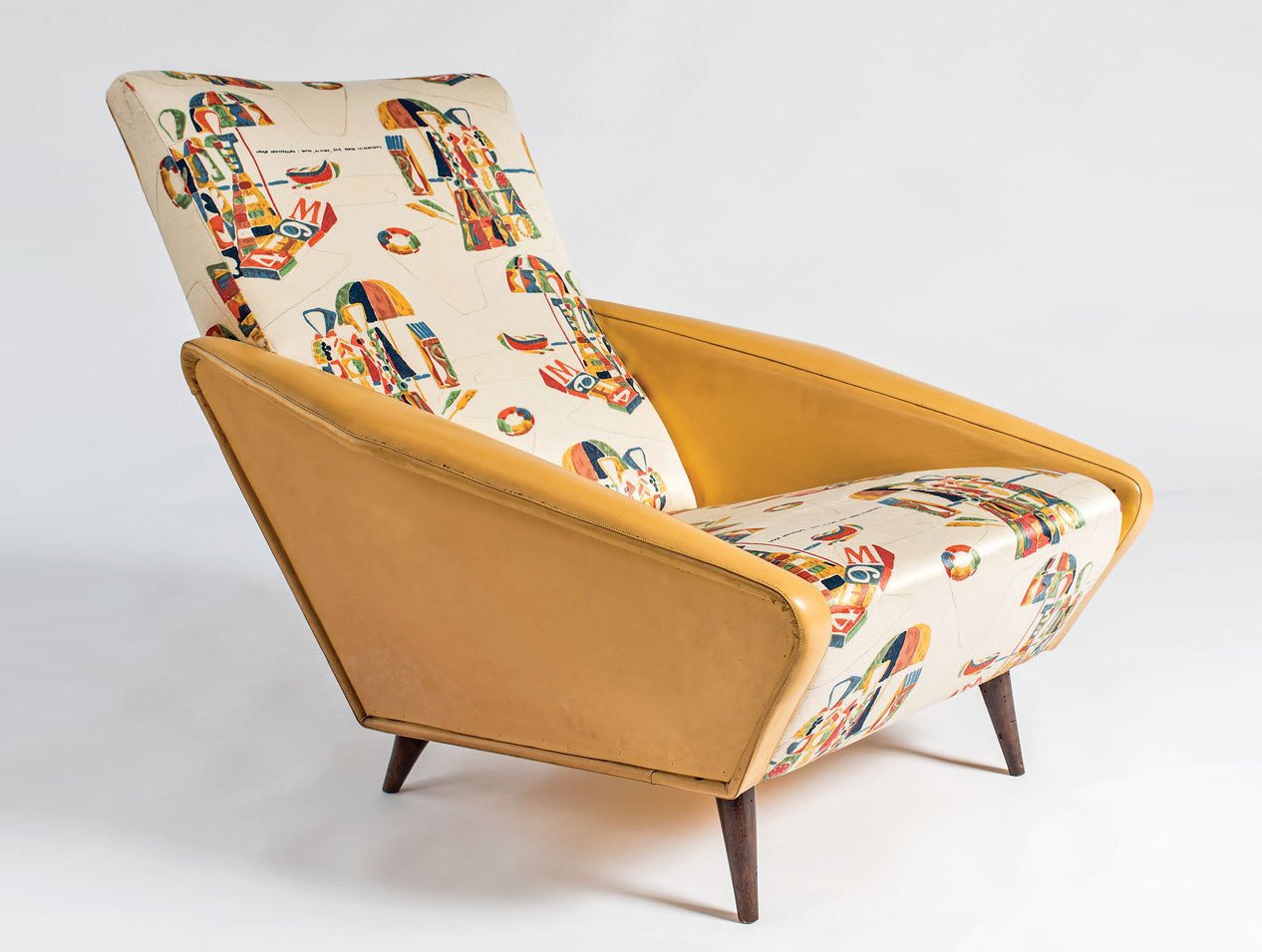 Distex armchair, model 807, Gio Ponti, 1953. Made by Cassina. Walnut with skai and chintz fabric "La Legge Mediterranea" (original fabric designed by Ponti). H. 32-11⁄16, W. 43-5⁄16, D. 27 in. Collection of Robert Munch. Photo courtesy of Casati Gallery.


Left: Side chair, Model AP 1676, Gio Ponti, 1953–60. Made by Cassina/Altamira. Walnut with modern reprint of Ponti's "Mediterranean law" fabric for JSA. H. 33-3/8, W. 19-1/4, D. 21-1/8 in. Photo courtesy Casati Gallery. Right:

Gio Ponti (1891–1979) at the Monza Biennale, 1923. Courtesy Gio Ponti Archives.



Widely recognized as the father of modern Italian design, Gio Ponti, over the span of a remarkably prolific career of nearly sixty years, created important works of architecture (including the first skyscraper in Italy), furniture, decorative art, and industrial products, expertly employing a vast array of both traditional and modern materials and techniques.

Through his participation in Italian and other international design exhibitions and through his work as an editor and author, while not defining himself as a modernist, Ponti was influential in putting forth new concepts of modern living. He played a crucial role in actively supporting contemporary architecture and urbanization, sustaining Italian traditions of craft, and promoting the artistic design of industrial products. Ponti was also a talented artist and an original thinker who endlessly sought to create what he called the "finished form…unchangeable, unrepeatable, unique, and coherent." In marked distinction from his modernist colleagues, Ponti did not believe that form follows function. Instead, he believed "…form is an ideal contribution, independent of functionality and originated from concepts of essentiality and truth, and that functionality, always implicit in everything, has nothing to do with the matter."

As a young architect, he took seriously what he considered the ethical imperative of modern architecture to contribute to civilization by returning order to the world. The key to this sacred mission was the home, which Ponti saw as the epicenter of family life — a place of comfort, serenity, and happiness. His concept of the home encompassed more than its physical structure, extending to include interior design, furniture, furnishings, decorative objects, and art. Ponti regarded the design of furniture and decorative art as equivalent artistic undertakings to architectural design; whenever possible, he planned domestic and public spaces as integrated ensembles.
Ponti was born in 1891, the only child of a middle-class Milanese family. Although he wanted to become a painter, his family encouraged him to enroll in the civil architecture department of Milan Polytechnic, Italy's premier technology university. In 1921, he opened an office in Milan and rejected the eclectic, historicizing styles that had been popular in northern Italian architecture of the late nineteenth and early twentieth centuries. In its place, Ponti espoused a new, modernized version of classical forms, proportions, and linear simplicity that came to be known as the Lombard or Milanese Novecento style.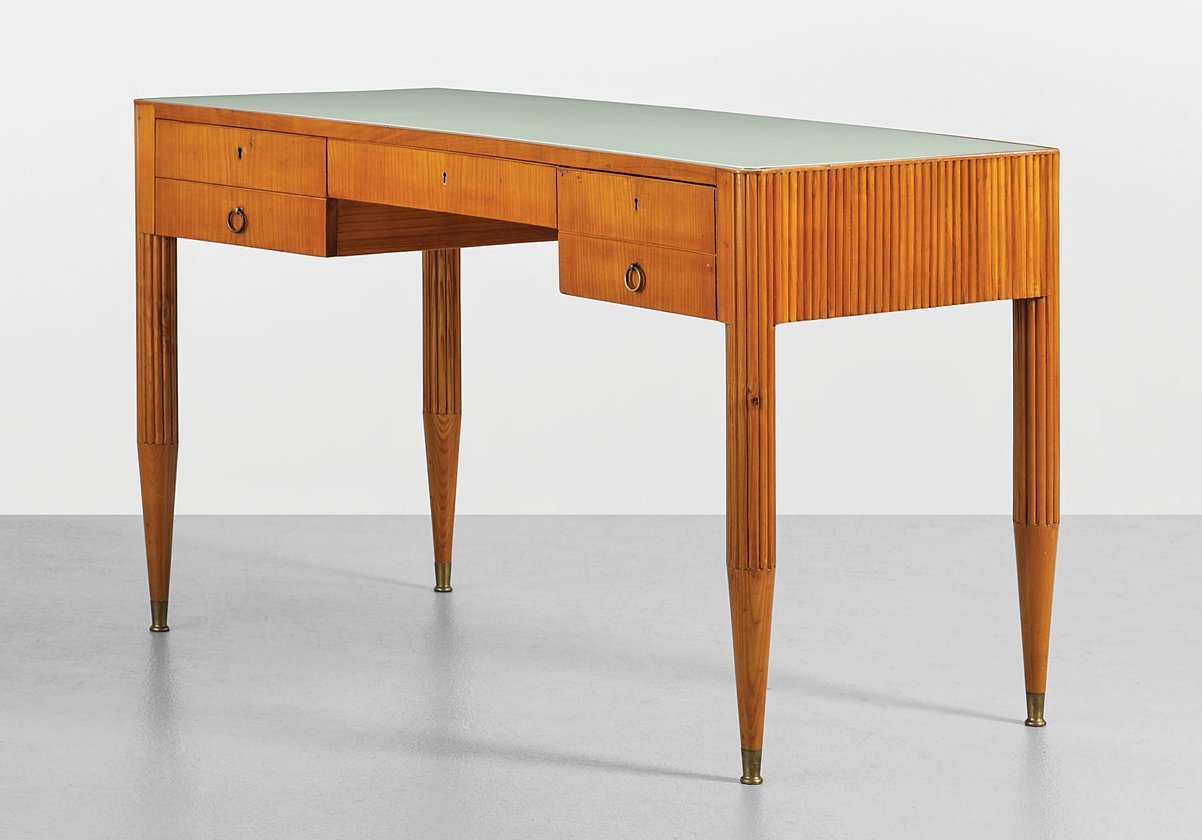 Desk, Gio Ponti, 1938. Fruitwood, reverse-painted glass, and brass. H. 31, W. 53, D. 26-1/2 in. Collection of Robert Munch. Photo courtesy of Wright.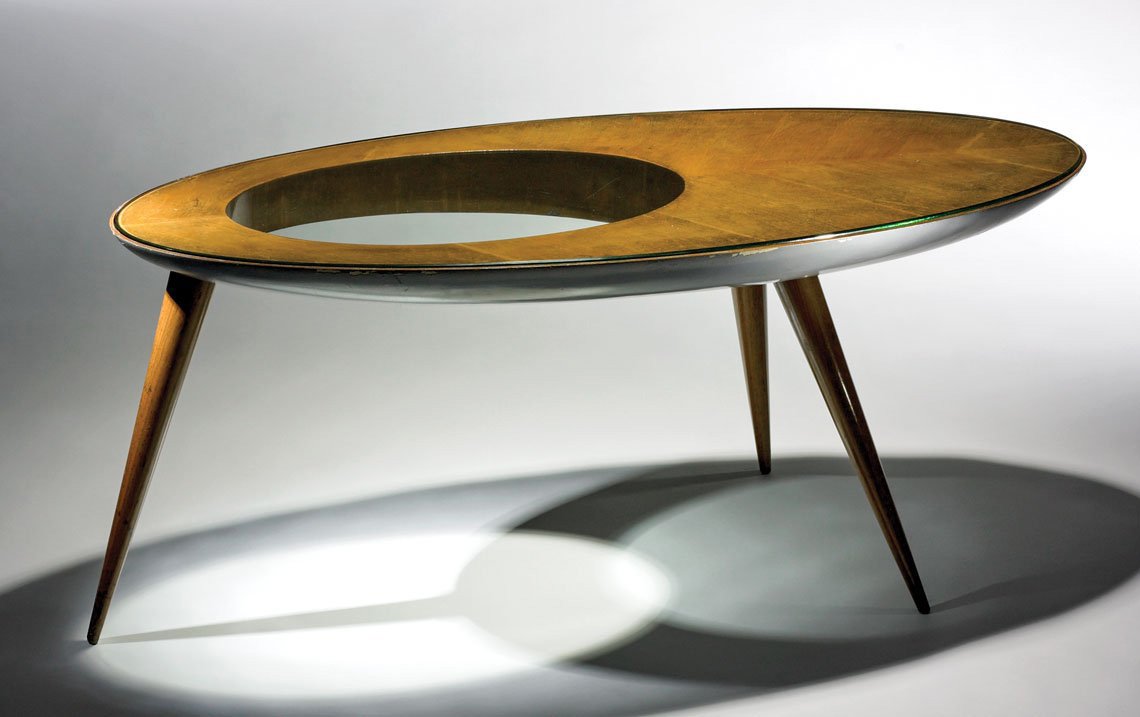 Coffee table, Gio Ponti, ca. 1950. Walnut, pearwood-veneered wood, painted wood, and glass. H. 18-3/4, W. 43-1/2, D. 18-1/4 in. Private collection. Photo courtesy of Wright.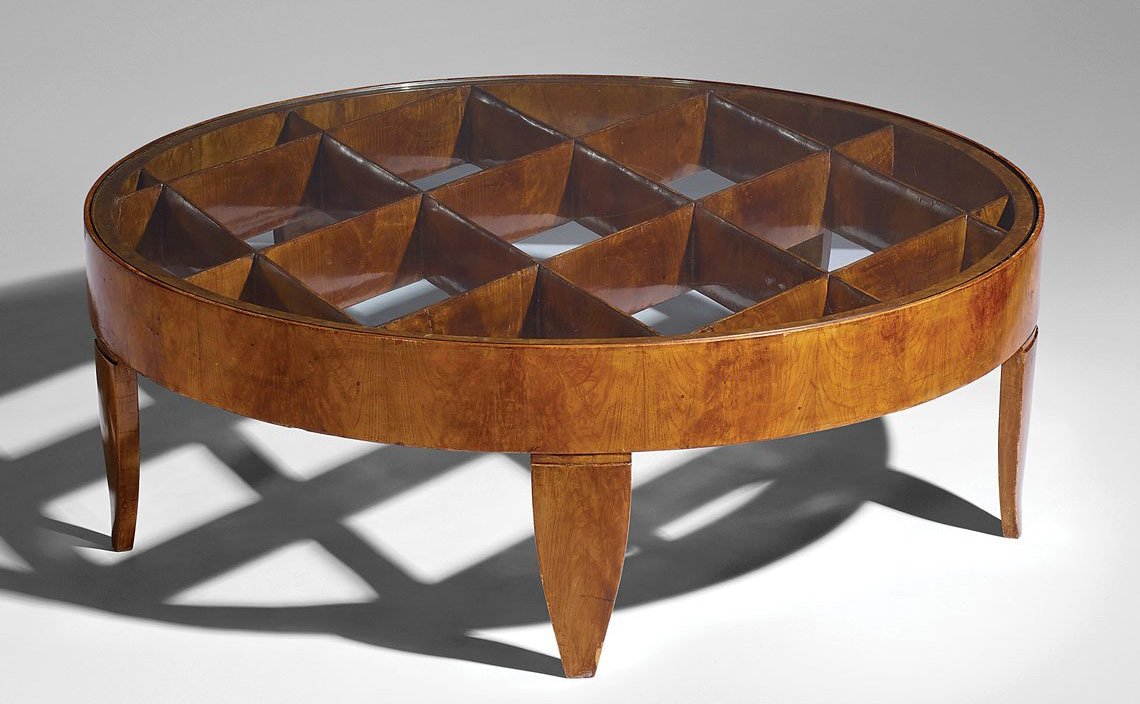 Coffee table, Gio Ponti, ca. 1937. Made by Giordano Chiesa. Italian burl walnut veneer, Italian walnut, and glass. H. 16-1/8, D. 42-1/4 in. Private collection. Photo courtesy of Wright.
For Ponti and others of his generation, classical art and architecture represented universally recognized and eternal ideals of visual beauty and harmony inextricably tied to the history and national patrimony of the Italian peninsula. These classical influences were especially visible in the ceramics he created for the manufacturer Richard Ginori, for which he served as artistic director and product designer from 1923 to 1933. Ponti expanded Richard Ginori's production of small, low-cost objects such as bowls, ashtrays, inkwells, paperweights, and cigarette boxes, using the industrial process of transfer printing to apply simple designs instead of hand painting decoration. The majority of the objects he designed were based on traditional forms and decorated with classical iconography; however, he also invented new ceramic shapes and novel types of ornamentation, incorporated innovative imagery based on Italian vernacular and contemporary life, and introduced several new colors to the company's palette.

Although Ponti insisted on the Italian character of his work, he also looked to foreign sources for inspiration, a tendency reflected in the wide range of international design topics he selected for articles in the magazines Domus and Stile, both of which he helped found. Articles about architecture, interior design, furniture, and applied and fine arts of all schools, from antiquity to the avant-garde, created by Italian, European, and American designers, reflect his wide-ranging interests and his sincere desire to educate the public, refine its aesthetic tastes, and entice its members to embrace modernism.

In the 1930s, after designing furniture for the modern home had begun to occupy Ponti more and more, he developed his ideas and refined his practices in a series of design proposals published in Domus. All of these projects feature interior spaces connected to the exterior through the use of large windows, balconies, terraces, and pergolas. Private commissions to create an entire interior ensemble often resulted in Ponti's creating a singular work that would become the prototype for a later series of designs. For Villa Vittoria, in Florence, he created an updated, streamlined version of the traditional scroll-back chair (Fig. 3). In place of the rigid, joint-based system of construction and the rectilinear profile of his earlier furniture designs, the wood framework of this chair bends smoothly in a fluid, ribbon-like shape; the gently tapered back legs flow seamlessly into the chair posts and from there up into four scrolls that make up the backrest. The exaggerated curve of the front legs adds to its graceful elegance. Devoid of extraneous ornamentation, the beauty of the chair lies in its smooth surfaces, its simplified contours, and the superb quality of its execution. The Contini-Bonacossi chair exemplifies Ponti's outstanding characteristics as a designer — his mastery of harmonious proportions, command of the physics of construction, attention to detail, and love for beautiful materials.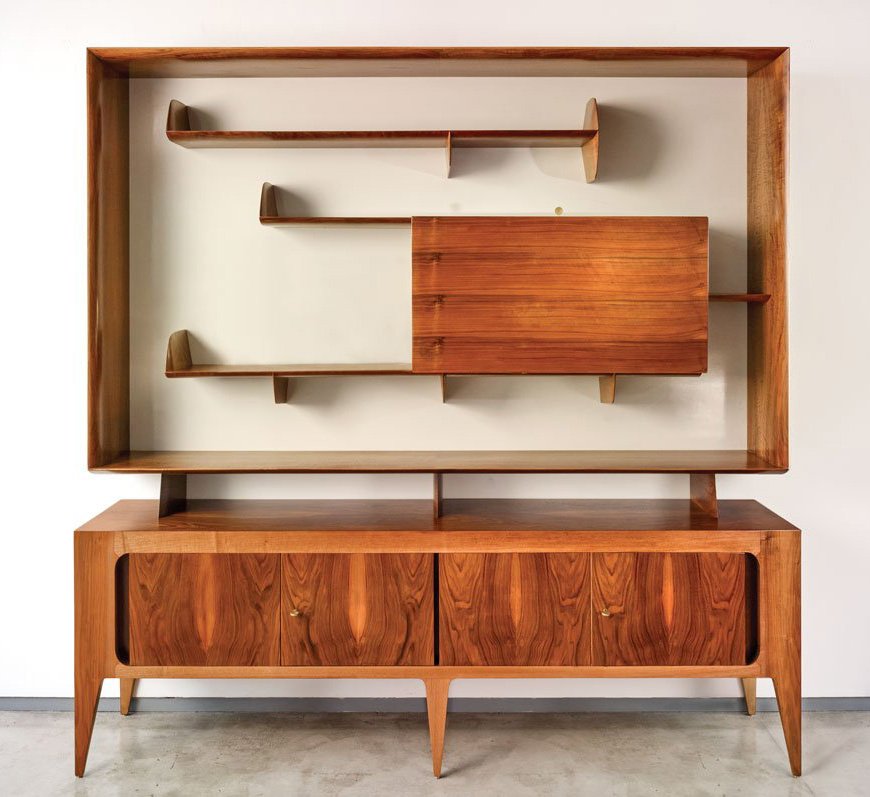 Cabinet with storage wall, Gio Ponti, 1951. Made by Singer & Sons. Italian walnut, lacquered wood, and brass, H. 79, W. 81, D. 18 in. Museum of Fine Arts, Houston, 2016.145.A-B.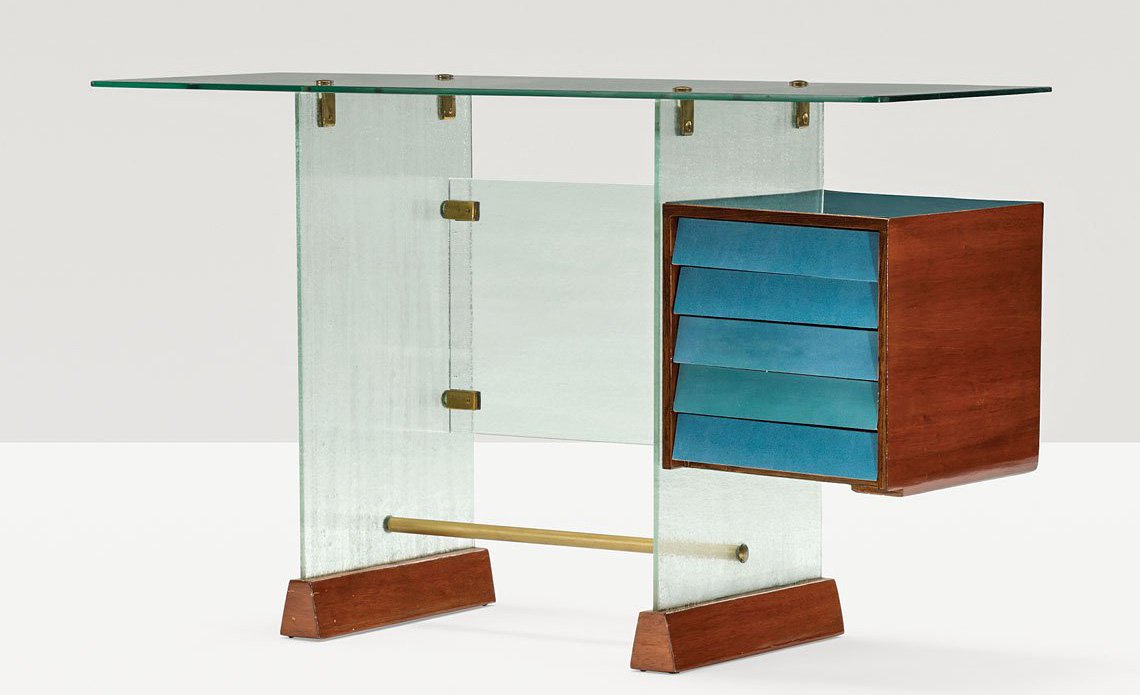 Desk from the Societa Vetrocoke Building, Milan, Gio Ponti, ca. 1939. Vitrex glass, laminate, Italian walnut, enameled steel, and brass. H. 27-3/4, D. 47, W. 17-1/2 in. Collection of Jack Deamer, Sag Harbor, NY. Photo courtesy of Wright.
For Ponti, the most important room in the home was the living room, where family, friends, and guests could gather for meals, entertainment, and private relaxation. Its central focal point in his designs was most often a low coffee table, like the large, round wooden one he employed in his own home. The openwork is covered with Securit glass, a new form of tempered glass manufactured in Italy beginning in the 1930s. The transparency of the glass top serves an aesthetic purpose, creating a sense of relative weightlessness and helping blend the piece into its surroundings while providing a proper surface for the functional requirements of the table.

At the 1937 Paris Exposition of Arts and Technologies, Ponti introduced a new line of high-end furniture with a distinctive decorative feature: convex channels created through grooves carved in the surface of the wood. A small writing desk includes these carved channels on its back, sides, and legs. This design element may have been inspired by the reeded legs of neoclassical furniture, but Ponti employed it in an innovative manner. The undulating surfaces of the desk are balanced by the smoothness of the glass tabletop, the fronts of the five drawers, and the lower portion of the cone-shaped legs. Its clean, compact lines are complemented by the simple, round draw pulls and small brass sabots that protect its feet.
Ponti also designed furniture in 1939 for the Vetrocoke offices in Milan, including a small desk made from Vitrex glass, patterned glass, enameled steel, brass, and Italian walnut. Although eminently functional — the Vitrex glass provides a sturdy, durable surface to work on — the desk gives an overall impression of aerodynamic lightness, appearing anchored to the ground only by thin strips of wood. The brass bar secures the stability of the two side panels and provides a place for the person seated at the desk to rest his or her feet. The most inventive feature of the desk, unprecedented in the architect's repertoire of furniture designs, is the functionally effective, cantilevered cube of blue drawers, a daring departure from the age-old tradition of locating storage space directly beneath the top of the desk or in stacks to the side. Ponti continued to employ variations of this inventive design feature throughout the remainder of his career.

In the 1940s, Ponti devoted a great deal of time to creating works of decorative and applied art with the enamellist Paolo De Poli (1905–1996) and the Venetian glass company headed by Paolo Venini, his old friend and collaborator. Ponti credited De Poli with reviving the art of enamelwork in Italy and greatly admired him for elevating it to the highest level of artistry. In particular, he appreciated the enamellist's mastery of brilliant color. Beginning in 1956 they would collaborate on designs for brightly colored decorative objects intended to enliven the décor of the modern home. Ponti referred to them as his "whims." According to his daughter, he "drew these works with his scissors." Indeed, they appear to have been cut out of paper, folded, and made to stand up by themselves as if they were origami rather than enameled copper.


Left: Scrolled chair from the Contini Bonacossi residence, Florence, Gio Ponti,1931. Made by Mario Quarti. Italian walnut and leather. H. 35-1/2, W. 19-1/2, D. 22 in. Private collection. Photo courtesy of Wright. Right: Herculanea bowl, Gio Ponti for Richard Ginori, 1923. Gilt and glazed porcelain. H. 7 in. Georgia Museum of Art, University of Georgia; Museum purchase with funds provided by the Virginia Y. Trotter Decorative Arts Endowment (GMOA 2016.216).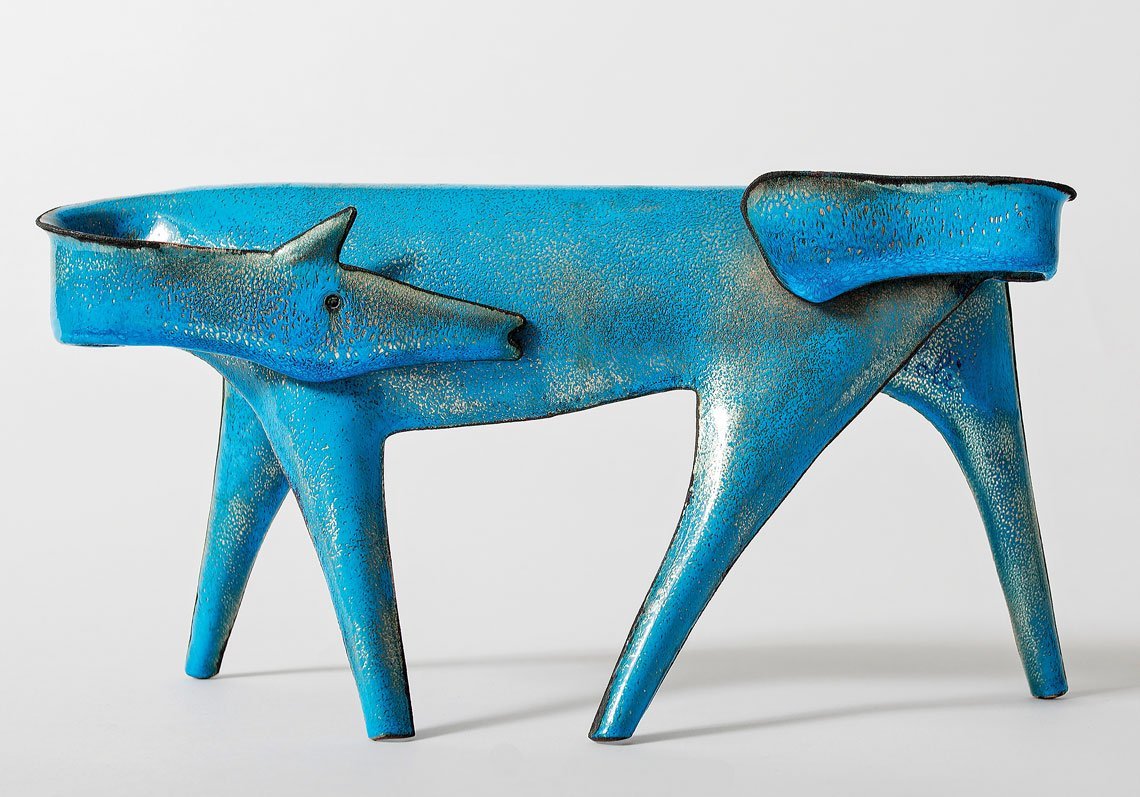 Horse, Gio Ponti and Paolo De Poli, ca. 1956. Enameled copper and silver. H. 5-3/4, W. 11, D. 3 in. Private collection.
In the 1950s, as Italy began to recognize the necessity of developing its industrial manufacturing to produce consumer goods efficiently that would appeal to foreign markets, Ponti sought to sustain the traditional applied arts while working to ensure that the high quality of Italian craftsmanship was maintained in mass-produced items. He also persisted in designing furniture primarily as a matter of aesthetic expression. As a result, his designs were not always adaptable to large-scale production, as with an oval, three-legged coffee table from around 1950. A large cutout in the tabletop, covered with glass, adds to its innovative character. The table still has enough surface area to perform its primary function, but the sculptural void reflects Ponti's characteristic desire for lightness and transparency. Due to the complex nature of the design, the table was considered not profitable for mass production and only a few artisan-crafted examples were produced. Some of Ponti's designs were more commercially successful, as with a cabinet-credenza he designed for M. Singer & Sons of New York. The piece is elegant, with his characteristic compact profile and smooth surfaces, harmonious balance of vertical and horizontal design elements, and impression of structural lightness.

Ponti designed more than twenty chairs for Cassina in the 1950s, including his famous Superleggera chair, a small multipurpose chair, and the Distex armchair. The name of the latter may have derived from the Italian verb disentendere, meaning "to stretch out." In contrast with the Superleggera chair, it was designed to encourage people to assume a more lounge-like pose. Its angular profile and faceted surfaces may connect to Ponti's unique perception of architecture as a crystal or diamond that "rejects curved forms because they are not finite." This concept found expression in the diamond and trapezoidal forms that appeared in a number of Ponti's works as of the early 1950s and culminated in his design for the Pirelli Tower in 1956.
In the prewar years, Ponti had made a mark for himself collaborating with Italian manufacturers to produce consumer goods; in the 1950s, together with other graduates of Milan and Turin polytechnic universities, he sought out new collaborative opportunities in a much wider range of industries. With his international reputation as an architect, designer, and theorist well established, Ponti attracted a number of important commissions from around the globe in the last two decades of his life, including projects in Islamabad, Hong Kong, Einhoven, and Denver. Although he continued to invent new designs for furniture, fabrics, lighting, ceramic tiles, and decorative objects for the modern home, he was primarily occupied with the planning and construction of hotels, churches, and commercial buildings throughout Italy.

The sheer volume and variety of Ponti's work, his belief in the "finite form," and his love of decoration and color have made it difficult for scholars to place him neatly alongside other twentieth-century modernists, who rejected historical references and applied ornamentation and emphasized function over form. Ponti clearly recognized the importance of "being modern," but he never identified himself with the modernist movement, nor, for that matter, with any one specific style. Instead, he can be categorized as a Renaissance man who devoted himself to modern living.
Perri Lee Roberts is a professor of art history specializing in medieval and Renaissance Italian art at the University of Miami.